Selling gold jewelry online has never been this easy and safe!
Same-Day Processing
On the day of arrival, your package is opened and recorded on video for your protection. Then, we test and grade your items to determine their karat quality.
Next, we weigh your valuables on our calibrated electronic jewelry scales using the Pennyweight (DWT) unit of measurement (there are 20 DWT for every ounce). Your itemized settlement is posted online and you're notified by both email and telephone that it's ready for your review.
Accept your settlement and you're paid immediately. If you decline, your items are returned to you via FedEx® at our expense.
And, it all happens on the same day your package arrives!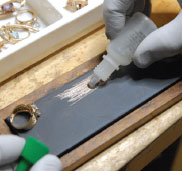 Safe & Secure
Who on earth would put their valuable gold jewelry in an envelope and drop it in a mailbox as our competitors would have them do? Certainly not GoldFellow® customers! For your safety, GoldFellow® gold buyers offer FREE FedEx® shipping for your scrap gold. You can track your FedEx® package right here by logging onto your account, and by using the FedEx® air bill we provide, we will insure your package for up to $2,500.  Selling gold jewelry online has never been this safe, secure and easy!
See Your Payment in Advance
We created our GoldView® client login system for YOU. By logging into GoldView® you can see your settlement itemized by gold karat and weight. When you accept your cash for gold settlement in GoldView®, we process your payment immediately. You can also track your FedEx® package, change your payment method and see your account history.
GoldFellow® Guarantee
If you choose to be paid by check, you have 10-days to change your mind. Simply let us know you have decided to return our check and we will set your items aside. Then, mail GoldFellow® back the check and we'll ship your items to you by FedEx®.
More Questions?
If you have more questions about selling gold jewelry, sterling silver, platinum and diamonds, visit our frequently asked questions (FAQ) page for more information on getting cash for gold from GoldFellow®.