Michael H Gusky, founder of GoldFellow® was asked to contribute an advice column to the September 2010 issue of Weston Lifestyle Magazine.  Below are his secrets of selling gold.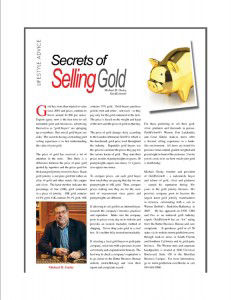 Gold has more than tripled in value since 2001 and prices continue to hover around $1,200 per ounce. Experts agree, now is the best time to sell unwanted gold and businesses advertising themselves as "gold buyers" are springing up everywhere.  But, not all gold buyers are alike.  The secret to having a rewarding gold selling experience is in first understanding the value of your gold.
The price of gold has received a lot of attention in the news.  But, there is a difference between the price of pure gold quoted by reporters and the prices paid for the karat gold jewelry most of us have.  Karat gold jewelry is not pure gold but rather an alloy of gold and other metals like copper and silver.  The karat number indicates the percentage of fine (24K) gold contained in a piece of jewelry:  10K gold contains 41.6% gold; 14K contains 58.3% gold; 18K contains 75% gold.  Gold buyers purchase gold to melt and refine – not resell – so they pay only for the gold contained in the item.  The price is based on the weight and karat of the item and the price of gold on that day.
The price of gold changes daily according to the London Afternoon Gold Fix which is the benchmark gold price used throughout the industry.  Reputable gold buyers use this price to calculate the prices they pay for the various karats of gold.  They state their prices in units of pennyweights or grams: 20 pennyweights equals one Troy ounce; 31.1 grams also equals one Troy ounce.
To compare prices, ask each gold buyer how much they are paying that day for one pennyweight of 14K gold.  Then, compare prices making sure they are for the same unit of measurement since grams and pennyweights are different.
If choosing to sell gold to an internet buyer, research the company's business practices and reputation.  Make sure the company posts its prices every day on its website and provides an insured, trackable method of shipping.  Never drop your gold in a mail box.  It is neither fully insured nor trackable.
If selecting a local gold buyer or gold party company, select one with a presence in your community and a reputation for honesty.  The best way to check a company's reputation is to go online to the Better Business Bureau website (www.bbb.org) and view their report and complaints record.
For those preferring to sell their gold, silver, platinum and diamonds in person, GoldFellow®'s walk-in stores like those in Weston, Fort Lauderdale and Coral Gables offer a discreet selling experience in a bank-like environment.  All items are tested for precious metal content, graded, weighed and priced right in front of the customer.  I invite you to come in to see how much your gold is worth today.
Michael Gusky, founder and president of GoldFellow® – a nationwide buyer and refiner of gold, silver and platinum – earned his reputation during 30+ years in the gold jewelry business. His previous company grew to become the largest karat gold jewelry manufacturer in America, culminating with a sale to Warren Buffett's, Berkshire-Hathaway in 2007.   He has appeared on CNN, CBS and Fox as an unbiased gold industry expert. GoldFellow® has an "A+" rating from the Better Business Bureau and zero complaints.   It purchases gold in all 50 states via its website (www.goldfellow.com), through walk-in stores in South Florida and Southern California and its gold party business.  The Weston store and corporate headquarters is located at 3040 Universal Boulevard, Suite 150 in the Meridian Business Campus.  For more information, go to www.goldfellow.com/florida or call 954-888-9500.