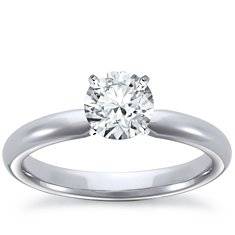 Platinum is a rare and beautiful precious metal, silvery-white in color and sometimes mistaken for silver.  Heavy weight, malleable, durable and resistant to tarnish, platinum is an excellent choice for jewelry settings containing precious gemstones like diamonds.  Other metals like gold may wear away slightly over time while platinum is stronger and doesn't easily chip.
Most Platinum jewelry is marked 950 or PLAT indicating the jewelry is 95% pure.  But, Platinum jewelry may also be marked 850 Plat or 850 Pt and 900 Plat or 900 Pt., indicating 85 or 90% Platinum content respectively.  Platinum jewelry is alloyed with Platinum Group Metals (PGM) such as Iridium, Palladium, Ruthenium, Rhodium or Osmium. GoldFellow® purchases platinum jewelry by weight and purity – the same as any other precious metal.
Like other precious metals, Platinum is traded on the commodities market in the form of bars, bullion or ingots. Platinum Prices change daily and are sensitive to world economic factors as it is used in the manufacture of items such as catalytic converters which control auto emissions, electronics, and in medicine for the production of anti-cancer drugs.
To sell platinum jewelry to GoldFellow®, complete the form to sell platinum using our free, insured FedEx service – or visit one of our many convenient GoldFellow walk-in stores or By-Appointment office locations.
References:
http://en.wikipedia.org/wiki/Platinum
http://www.webelements.com/platinum/
http://www.kitco.com/charts/liveplatinum.html