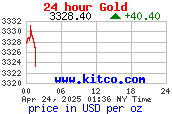 The Live spot gold price courtesy of www.kitco.com is the current cash price for one Troy Ounce of Fine Gold at a particular time and place.  Spot gold prices are updated throughout the day by the various gold markets across the globe.  Shortly after the New York market closes, the Sydney gold market opens and provides the live spot prices.  Hong Kong's gold market overlaps Sydney slightly and then provides spot prices until gold markets in  Zurich and London resume.  London also provides a morning and afternoon "fix" prices for gold.  The London afternoon fix is used as the benchmark for many gold-related transactions including cash for gold businesses and manufacturing.
Spot gold prices shown above are not necessarily the selling price of gold bullion such as one ounce gold coins and ingots as the live spot price does not include other additional charges such as storage and transaction fees, broker commissions, delivery charges, etc. .
GoldFellow® provides the live spot gold price for informational purposes.  We actually use the London P.M. Fix which is set at the close of gold trading in London in our calculation of the prices we pay for all karats of gold.  Though people may be familiar with the "spot price" we use the London P.M. Fix since it is the only verifiable gold price.  We therefore hold that price all day long.  Spot price is listed above, but to see the London P.M. Fix and the prices we pay for various karats, visit our gold price page.