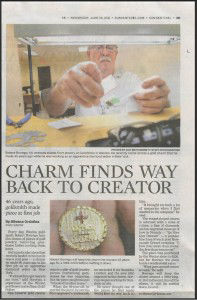 Longtime GoldFellow® employee Robert Borrego became a local celebrity when a charm he crafted 46 years ago came back to him on its way to being melted.  The cash for gold industry is known for separating people from their unwanted gold jewelry.  Yet for the sixty-nine year old Cuban born Borrego, it was that very business which brought him face to face with a piece of his past – a 14 karat gold custom-made charm he helped manufacture in his first job at age 19 in New York City's jewelry district.
Borrego was beside himself with joy after finding the charm among pieces of scrap gold jewelry he was to remove stones from.  The video above, courtesy of the Sun Sentinel newspaper, shows Borrego, a supervisor for GoldFellow® at its corporate headquarters in Weston Florida, describing how the charm came into his possession.
"Robert was so emotional," said GoldFellow® president, Steven L Hansen.  "He ran around the office showing everyone the charm.  It was as if he'd been reunited with a long, lost relative."
In the video and Sun Sentinel newspaper story Borrego said the charm would eventually end up in the melt.  But, GoldFellow® Founder Michael H. Gusky had other plans.
"We're mounting the charm on a plaque along with the newspaper story and presenting it to Robert.," said Gusky.  "This piece was something special and highly personal to him.  I have seen thousands of pieces of gold jewelry I designed and manufactured come through here as people sell gold they no longer want or wear – but this piece represents an important slice of Robert's personal story.  It reminds him of where he started and how far he's come.   We're excited to be able to give him the charm as part of a meaningful presentation."